Before installing USB Data Theft Monitoring Tool on your System, please go through the following steps for Simple, Fast, Flexible Administration and Management of the software.
Make sure that:
Any kind of Firewall installed on client machine should be disabled.
Before installing the software, please check that Remote Registry Service should be started in Windows Vista Operating System.
Any antivirus or firewall installed on system will not allow USB monitoring software to execute.
Download USB Data Theft Protection Tool from www.ibusinessutilities.com website and save it at an easy to find place on your hard disk.
Follow the links to continue the installation procedure:
If Installation was Interrupted or Incomplete
Following steps should be taken while installing the USB activity monitoring software for Windows network on Server machine:
Install the downloaded software by clicking the "Setup" file from the saved location.
Install Location screen will appear as shown below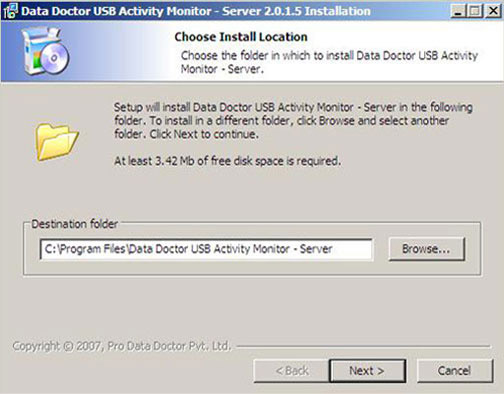 Choose the folder in which you want to install USB Activity Monitor-Server for windows network. After Destination folder path is browsed, click "Next" to proceed.