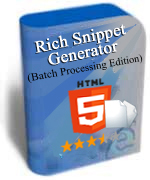 DRPU Rich Snippet Generator (Batch Processing Edition)
DRPU Rich Snippet Generator - Professional helps you to generate search engine friendly rich snippets and Google compatible Microdata code for your different websites simultaneously. DRPU rich snippet generator program automatically create bulk numbers of rich snippet code and Microdata code for your various websites.
Microdata generator tool not only help you to increase you website Ranking, but also enhance the visibility of your website in organic search result page.
Micro data or rich snippet code helps search engines and web crawlers to better understand what information is contained in a web page and provides better search results. Rich snippet code creator program provides complete solution to put rich data snippet about your Business, Organization, People, Products, Events, Movie, Book and Review.