Today, most of the large or small business Organizations, Private Companies, Educational institutions and various Government agencies faces the problem of unauthorized transferring of secret and important data, files from office computers or PC. Our enhanced USB Data Theft Protection Tool provides an ultimate solution to restrict the illegal data leakage problem and other malicious activities performed by users while using USB removable digital data storage drives.
Advanced removable media blocking utility records plug-in and plug-out activities of potable USB mass storage drives to protect unofficial data transfer in real time. Easy to use USB data privacy controller facilitates both real-time and offline monitoring of removable media drives with centralized control on the access settings of USB drive on both client and server machine. Anti data theft protecting utility smoothly works with all major USB removable devices including Pen Drives, USB Cameras, USB Flash cards, USB MP3 players etc of major brands like Sony, Toshiba, Kingston, Sandisk and many more.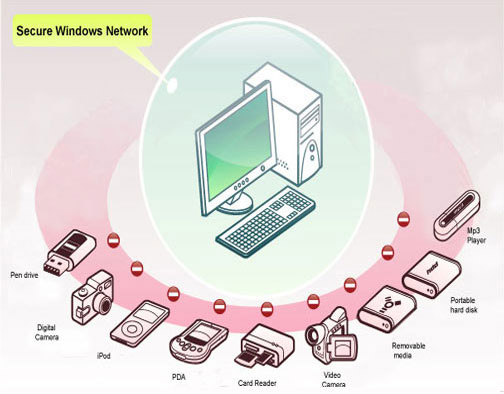 Removable media drive traffic monitoring software is a profitable and secure program for all business enterprises to have an easy control on the entire usb drive activities on Windows network. Cost-effective USB drive activity analyzer runs in hidden mode and notifies the server about the insertion and removal of usb drives at client machine by playing sound alert signal. Best LAN based USB drive hardware monitoring service helps in tracking the removable data storage drive activities and provides security to your confidential files and folders.
Removable media drive blocking utility is useful for small and medium size commercial organizations including Software companies, Cooperative fields, Research department, Computer labs of school and colleges and various other areas to keep watch on client PCs activities. Computer data security software has highly interactive user friendly graphical interface and no technical skills or prior training needed to work with the software. Easily download the trial version of USB data theft protection tool from our website to have an easy understanding and analysis of USB drive activity tracking program.