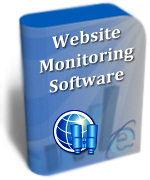 Website monitoring software
Simple and easy to use best website monitoring software helps to check and monitor the status of your web site such as website uptime, website down time on HTTP, HTTPS, SMTP, POP and FTP profile type in real time. With the use of website server monitoring tool, you can easily keep constant watch over your multiple website performance to ensure minimize downtime and maximize uptime of your business or personal websites.
If you have thousands of business website, you may have a question 'How to monitor website performance'. It is very difficult to know when your website goes down (or not responding). To solve your difficulty, website checker tool can provide real time help to you. Technically advanced website checker online software provides best methodology to monitor multiple website uptime or downtime status. Now you need not to check your website online status individually as website server monitor software monitors thousands of website status in single mouse click.
If your website is down frequently, your online sales may drop and certainly have a negative opinion of your website by your customers. Also if your business depends on SEO techniques, search engine may remove your website or your website links can be removed from your partner's web site.