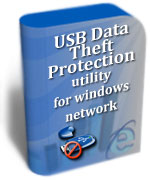 USB data theft protection utility for windows network
USB Data Theft Protection Utility for Windows Network easily track, display the plug-in and pug-out activities of USB mass storage devices in real time on any client machine configured over Windows network. The software helps to prevent unauthorized user access of any USB mass storage device and enhanced data security.
Professional LAN USB activity monitoring software prevents confidential data loss and easily tracks device status even when machine is not connected or cable is unplugged from LAN network. Anti data theft utility display all details of server and client machine including IP address, storage capacity, insertion and removal date and time, server name and domain name and save information in txt and html file format at user specified location. USB port data leakage prevention tool support all major USB storage drive brands including Sony, Kingston, Samsung, IBM, Hitachi, Toshiba, Transcend, Macron, Acer, Fujifilm and other popular brands.