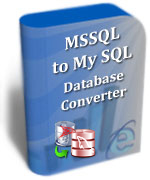 MS SQL to MySQL Database Converter
MS SQL to MySQL Database Converter Utility offers effective method to convert your selected or whole Microsoft SQL database records into MySQL database records. Software easily converts views, stored procedures, indexes with all necessary attributes, queries and foreign keys etc. MS SQL to MySQL Database Conversion Software connects MS SQL and MySQL server locally or remotely.
MSSQL database converter program support all major database attributes including Keys constraints, Default values, Schemas and many more. Database migration program enables you to save converted MySQL database records at user specified location for further use.