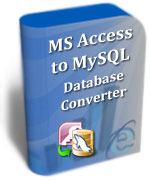 MS Access to MySQL database converter
MS Access to MySQL Database Converter Utility is an innovative tool to convert your MS Access created database records into MySQL database format in an easiest and convenient way. The Microsoft Access database converter is a profitable program which helps in converting selected or entire MS Access database records (tables & rows), including the password protected database, into MySQL database format.
Access-to-MySQL database file converter supports all the database default values including Data types, Primary key constraints, Null values, Schemas, etc. while converting into MySQL database format. Database migrating wizard is quite helpful for the database programmers by easily changing the entire MS Access database into MySQL database format in easiest way.